Discovered collections and locations
When setup and enabled the client device discovers filing locations in a specific hierarchy. Only locations that users have access will be discovered.
For auto discovery to work it needs to know where to start, the folder to discover, what to call each filing location and the name of a collection it should be associated with. It also  needs to understand the hierarchy of system being discovered e.g. SharePoint, network folders, Procore etc.
The discover of filing locations is enabled via the integrations section of User Preferences
Due to the limitless ways folder hierarchies can be setup, it may not always be possible to implement auto discovery.
Specialist configuration is required to setup auto discovered filing locations. Contact: support@mailmanager.com for more information.
Notes:
·    Automatic discovery of locations is only available for subscription licence users
·    Locations are discovered soon after starting Outlook and then once an hour or from the Windows Notification Tray select the Mail Manager icon

and choose "Run discover filing locations" e.g.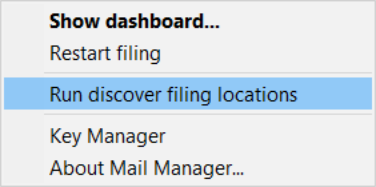 | | |
| --- | --- |
| | Discovery of locations occurs when the MailManager.AutoDiscoveryLocations.exe is running (see Windows Task Manager). When the process ends the locations will be available for filing. |
Also See: