ProjectWise
Mail Manager supports the filing and searching of messages in ProjectWise on-premise
Prerequisites:
·    Bentley ProjectWise Explorer (Version: 08.11.11.574 or higher)
How to add a ProjectWise filing location:
1.    Open the Add Location window via:
Add a location when filing
Add a location via the Locations tool

The Add Location window will appear: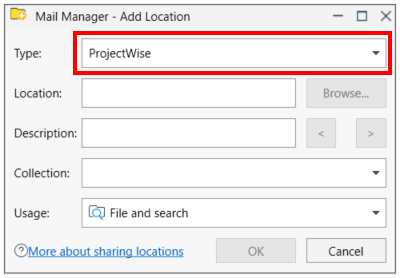 2.    Select the type of location to be added i.e. ProjectWise
3.    From ProjectWise Explorer select the destination folder for the messages and copy the full path from the address bar to the clipboard e.g.
\\Server01.com_01:PW_123345-01\Documents\Emails\
4.    Paste the ProjectWise path into the Location text field
5.    Enter a suitable description for the location.
Use the < and > buttons to use the folder names as the description.

The description can be updated at any time via the Locations tool.
6.    Select a Collection to which the location will be added to
7.    Select OK
Up to 30 minutes later you will be able to search items that have been filed into your ProjectWise filing locations.
Notes:
·    ProjectWise locations are not verified like they are for local and network folders, therefore the locations status column will be empty.
·    You will be prompted to enter your ProjectWise credentials if they are different to your Windows login details. This is a onetime prompt, unless your password has changed.